My supergharged MR2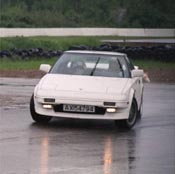 Ladies and gentlemen, this is the only supercharged MR2 in Norway, and to my knowledge one of extremely few in all of Northern Europe. The Reason for this is that this version was set for thwe American and Canadian market. Very few SCs have found their way to Europe, but I am lucky enough to own one. I bought it off Jo Ravnsborg in Sweden and did the import work myself. The car had 61.000 miles on it and was in mint condition. It still is.

The SC showed up in 1988 and was a result of the growing demand for more power in the MR2. After thinking for a while, Toyota came up with the 4A-GZE. It is very much alike the 4A-GE that is found in the NA (Normally Aspirated) version of the MR2. What they did was this:

They dropped the compression ratio from 9.4:1 to 8.0:1 and added a roots-type supercharger and a Nippon-Denso air-to-air intercooler. The engine lid was modifyed to give room for the intercooler, the gearbox was exchanged for a heavier unit originally found on the Camry, and the drivetrain was given an overall upgrade to cope with the 21 extra bhp that this new engine would deliver at 6000 rpm. More info about this magnificent engine can be found at:



David Kucharczyk's great notes on the 4A-GZE system



The American press loved the new engine. It gave the MR2 the engine it needed, but there were a few things about the MR2 that changed in the process: First of all, the reinforcements had made the SC almost 100 kg (200 lb) heavier. It now weighed in at 1180 kg bone stock. This was not approved by the test drivers. Neither was the nasty, but manageable, understeer. The SC had to take a lot of critic for its handling, but the press agreed that it was a great sports car.



If you want to read some articles, click here! :-)



I had a lot of trouble when it came to registering the car for Norwegian roads, but after 6 months of trouble and about 500 abroad phonecalls, I finally came through. I am now the proud owner of a car that most Norwegians never even heard about. Those who have, however, get really exited when they find out that my car is an actual SC.
Modifications:
HKS Oversized pulley: increases the boost pressure to 10 PSI

Mods to come:

TRD springs
Bilstein Sport Shocks
Custom made 2.5 inch exhaust
IC cooling fans (experimental)
New and lighter seats
4-point seat belts

And more, please check back for further progress.